Integrative Health
Core Four Bundle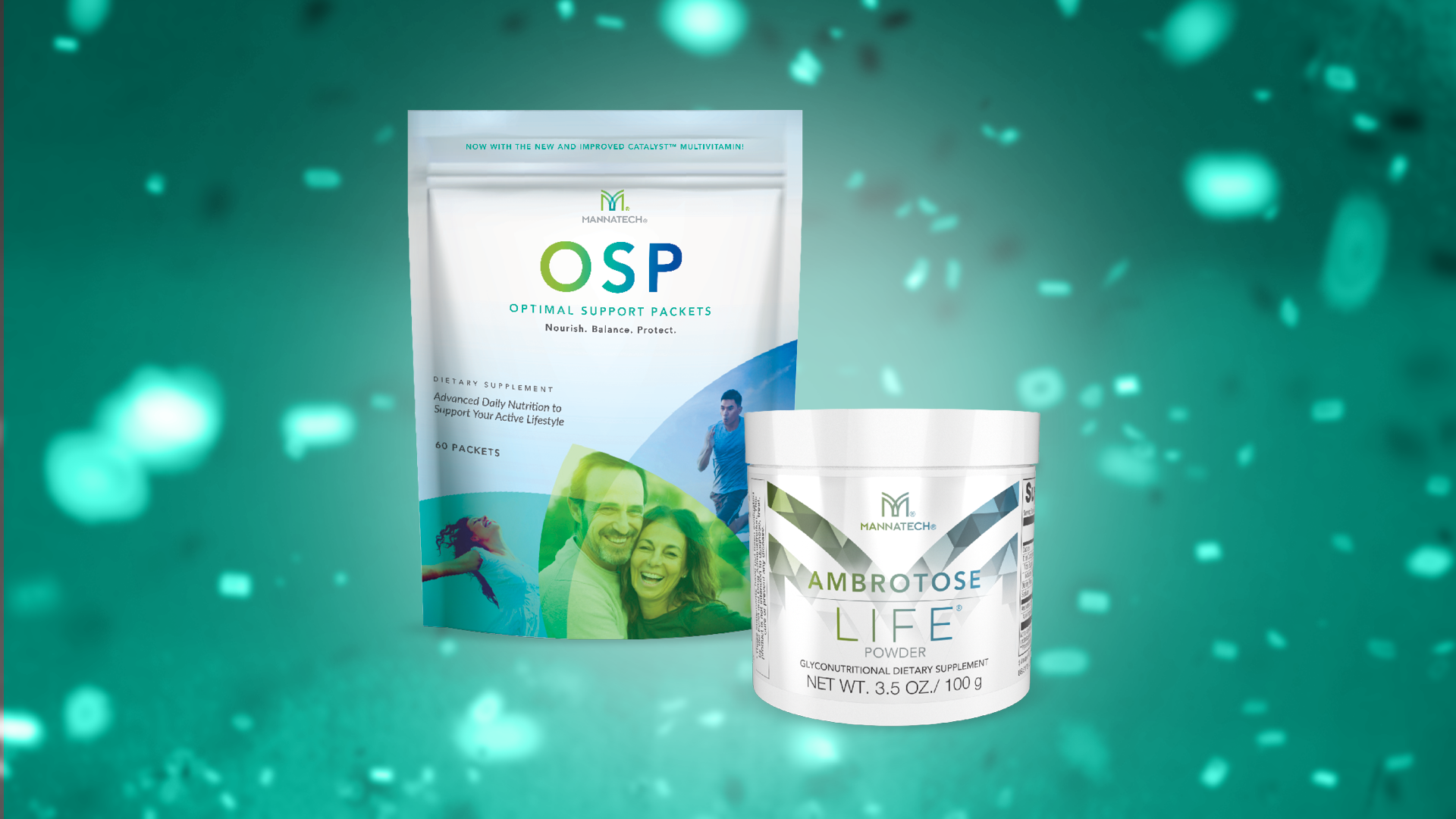 Your Proactive Approach to Healthy Aging
---
We're making it easy to help others get the right amount of nutrition their bodies need.
Our Core Four bundle is a favorite among our Customers due to the abundance of support for healthy aging, while giving a sense of confidence in what you do for your health.*
The Core Four bundle with Ambrotose® & OSP will help NOURISH, PROTECT, REGULATE and COMMUNICATE by providing optimal support for complete wellness in the convenience of just 2 packets and 2 scoops per day.*
Help Your Body Operate at Its Best
The World Health Organization (WHO) defines healthy aging as "the process of developing and maintaining the functional ability that enables wellbeing in older age." Meaning, if we wish to live our healthiest life long-term, we need to be proactive and develop a routine to help NOURISH, PROTECT, REGULATE and COMMUNICATE our bodies.
---
Catalyst™ Multivitamin is formulated strategically to NOURISH the whole body with 30 vitamins, minerals and essential nutrients, 19 of which provide 100% or more DV. With scientifically studied support of Sensoril® ashwagandha, a popular adaptogen known for its powerful, restorative properties.
BENEFITS:
Can help to maintain healthy immune system function.*
Supports cardiovascular health.*
Provides fat loss support.*‡
Supports the liver, kidneys and nervous system.*
Helps to maintain healthy blood pressure and blood sugar levels.*
Helps to maintain healthy skin, eyes, gums and joints.*
PROTECT your body with Ambrotose AO®. Loaded with antioxidants like naturally sourced vitamins C and E to provide superior protection for cells, immune support and help the body guard against oxidative stress so you can keep living well.*
BENEFITS:
Offers additional immune support from vitamin C.*
May protect your cells with water- and fat-soluble antioxidants.*
Helps the body guard against oxidative stress with antioxidant-rich nutrients.*
Can provide effective defense against the effects of free radicals.*
Excellent source of vitamins C and E.
Provides nutritional support for general well-being.*
PLUS™ helps REGULATE endocrine and foundational adrenal function to help your body's natural recovery processes from things like "Adrenal Fatigue."* It provides improved energy, vitality, mood and calmness.*
BENEFITS:
Formulated to support optimal endocrine health.*
Supports the health of the immune, nervous and cardiovascular systems.*
Supports breast, prostate, bone and colon health.*
A source of plant sterols.
Includes amino acids that play important roles in protein synthesis, the functioning of the immune system, the nervous system and the cardiovascular system.*
COMMUNICATE with the most powerful Ambrotose ever. Ambrotose LIFE® offers an abundance of prebiotics, soluble fibers and naturally sourced Glycans for proper nutrition and cell-to-cell communication.* Contains the most scientifically-studied modified citrus pectin with sodium alginate which supports proper digestion and immune health.*
BENEFITS:
Supporting immune system modulation.*
Supports cellular communication.*
Helps improve cognitive function, concentration and memory.*
Promotes gastrointestinal health.*
Contains Manapol® which enhances the absorption of vitamins C and E.
---
RESOURCES
---
‡When taken in conjunction with a reduced calorie diet and exercise.